17 August 2021
GLOBAL INDUSTRIE 2021 : LUCAS AND ITS PARTNERS DEPLOY SEVERAL MACHINES
After several postponements due to the health crisis, the 2021 edition of Global Industrie in Lyon will take place from 6 to 9 September. As planned in 2020, we will be present with a machine stand and 3 partners within the Aquitaine Robotics / French Federation of Robotics Clusters eco-system. This is an important decision because we wanted to exhibit a large machine and demonstrate our ability to work in partnership with multiple players to offer a quality service from the pre-project stage to maintenance to our customers and end users.
We will therefore be present on stand 3C190 at the Global Industrie show in Lyon from 6 to 9 September with our partners Akeros, SEEMI, PPrime, Aquitaine Robotics and the French Federation of Robotics Clusters. During this event, we will demonstrate a linear axis on pillars equipped with a Comau NJ220 poly-articulated robot and a Comau Racer 5 robot. Various demonstrations will take place on our elevated axis with our partners (Akeros and Pprime).
LUCAS, robot manufacturer, and its 3 partners SEEMI, Akeros and P' offer a complete and performing robotic and industrial ecosystem ranging from research to maintenance, including of course the design, manufacture and deployment of advanced automated production solutions.
Linear axis on pillars and its poly-articulated robot Comau NJ 220
The pole-mounted linear axis is a true emblem of our expertise and offers a wide range of operating possibilities. LUCAS linear axis, fast and precise, allow to increase the action radius of poly-articulated robots. They also offer a wide range of options: robot chair, attachment version, ATEX version. Like all standard LUCAS products, our elevated linear axes are capable of moving heavy loads (up to 3,000Kgs as standard) with high precision and speed.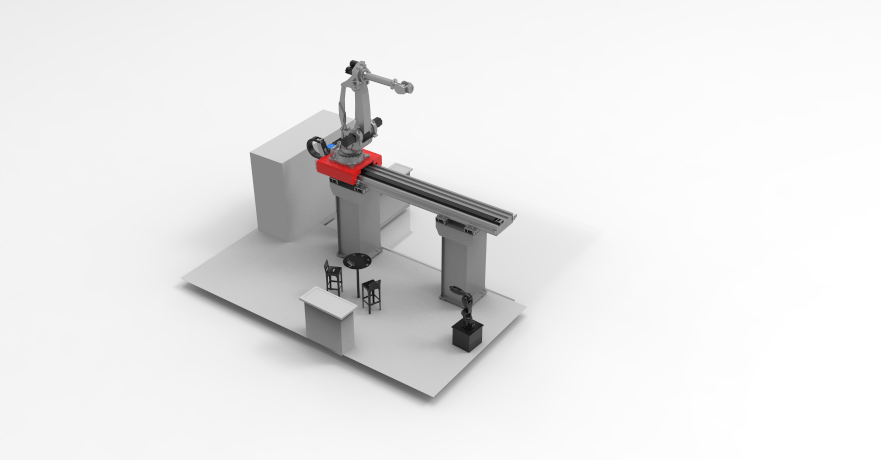 Example of an on-pillars linear axis mounted on standard high capacity edges
Comau Racer 5 Cell
The Comau robot is showcased in its laser cell: if you approach, the robot slows down. If you approach again, the robot stops. Specially designed for environments where humans share the space with the machine in complete safety, this cell makes it possible, for example, not to stop production when a human must enter the area.
LUCAS is the official distributor of Comau for France. We will therefore be delighted to answer your questions about the entire range.
Our Partners :
Akeros develops man-machine interfaces and inter-system communication tools that allow several systems to be networked and controlled. Their flagship product: ISI is a platform composed of modular features whose purpose is to make homogeneous or heterogeneous systems work together. ISI makes life easier for robotics manufacturers and integrators.
The P' research center and the company ITECA are developing a digital twin using a LUCAS axis. P"s highly accurate digital twin allows simulation, programming and control of a linear axis and its poly-articulated robot. At Global Industrie, ITECA will demonstrate its ability to build a working digital twin from data provided by the LUCAS online axis and gantry configurator.
SEEMI is a robotics integrator present in all production industries and in logistics. It designs and manufactures supervised robotic systems for its customers, particularly in the paper, packaging and food processing sectors.
Aquitaine Robotics and Fédération Française des Clusters Robotiques : Aquitaine Robotics and the FFCR are two professional associations whose aim is to help the development of robotics and its economy. LUCAS is a member of Aquitaine Robotics which is itself a founding member of the FFCR. By working in a network, with the other actors of our ecosystem and the representative organisations, we accelerate our development and obtain a much greater influence. For this edition of Global Industrie, the idea of pooling our resources and working together on a common space with many players appealed to us.
Demonstrations :
Discovery of the digital twin by P' : the technologies developed by P' and ITECA allow the creation of a mechanical model of a real robot or robotic axis in digital format. In an industrial environment, this allows two things: to observe the movements of the machine without interaction, for example from a distance. It also allows to launch sequences already integrated in the robot. Both features will be demonstrated on our elevated linear axis as well as on the miniature axis of P' and ITECA.
Finally, the P' & ITECA program can be used to generate code to animate the robots after designing the kinematics in the software.
Presentation of the LUCAS configurator: the LUCAS online configurator for linear axes and gantry robots is a tool dedicated to robotics integrators and to the pre-project phase. Our range of linear axes and 2- and 3-axis gantry robots has been fully standardised so that it can be configured completely online. This represents a considerable time saving in the pre-project phase, especially as the costing and technical validation of projects are also being automated. Once the configuration is complete, the data can be retrieved in any CAD format so that the LUCAS product can be integrated into a project. At the exhibition, we will offer a presentation of the configurator and its advantages on request
Nocturne: during the nocturne on Wednesday evening, we will propose with the FFCR a cocktail and a tasting of Bordeaux wines.
If you would like to make an appointment for a demonstration of one of our products or with a partner, contact us!